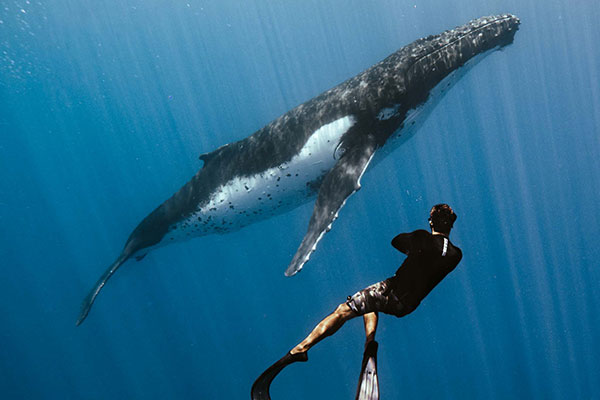 From July to November, it's whale season in Polynesia! Every year, they put on a spectacular show as they migrate through the waters of the Pacific.
Spend half a day in the company of these giants of the sea. Observe them in their natural environment and swim alongside them. It's an experience you'll never forget. You'll also visit the wild Opunohu Bay by the sea, known for its exceptional greenery. Then, back at the lagoon, you can discover the island's abundant marine life by snorkeling with sharks and rays. This unique adventure promises unforgettable memories and a deep connection with the breathtaking beauty of Moorea.
Launching the boat is not compulsory, and you can observe the whales from the boat. For safety reasons and in compliance with current regulations, you must be able to swim in the deep blue if you wish to approach the whale.
Good to know
Duration : 3 to 4 hours
Schedules : From 8:30 AM
Include : Snorkeling equipment, roundtrip transportation to all resorts, water, fruits and refreshments
Do not forget : Towels, rain jacket, swimsuit, dry clothes, sunscreen and sunglasses
We are using cookies to provide statistics that help us give you the best experience of our site. By continuing to use the site , you are agreeing to our use of cookies.
Ok