Motu Nao Nao
Enjoy this gorgeous private islet and its 3 spacious villas for a breathtaking all inclusive stay !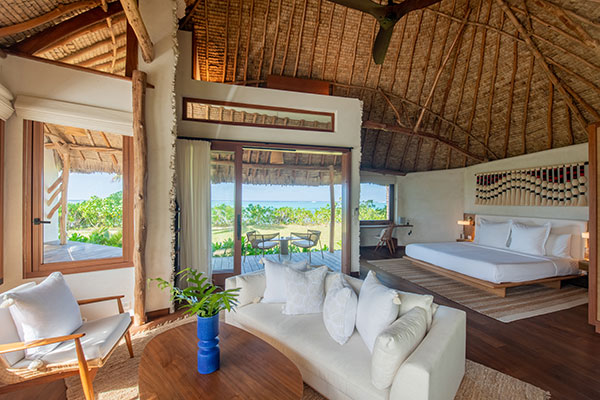 Where is Motu Nao Nao located?
Located south of the island of Raiatea, Motu Nao Nao is a stunning 75 acre private islet surrounded by beautiful waters. Featuring three gorgeous villas, the islet is the perfect place to enjoy a timeless vacation in paradise. 
Why should you choose Motu Nao Nao?
Motu Nao Nao offers the experience of a lifetime!
Enjoy an all-inclusive stay in the paradise that you have been dreaming of.  From the three tastefully designed villas to the surrounding nature, beauty is everywhere on this private islet. 
Whether you are enjoying the breathtaking views from a villa, relaxing on the pristine beach, making the most of an activity, savoring one of the chef's culinary creations or enjoying a walk throughout the private islet … this very exclusive experience will be the utmost treat.
This is a stay you don't want to miss, in a place you won't want to leave!
Categories & Prices
from CAD $9,508.00
Private Island
Pricing Conditions
Rate per night for the all inclusive rental of the islet for up to 6 persons
Restoration
Motu Nao Nao's private chef will introduce you to French Polynesia's beautiful cuisine, using ingredients that are mostly locally sourced and some even gathered on the islet.
Each meal will add the perfect savoury touch to match you stay in this paradise.
Free activities
Available:
- Beach equipment: kayak, stand-up paddle, reef shoes, flippers, masks and snorkels
- One bicycle per person
- One excursion or activity per person per day according to the proposed list
Other activities are also available with a supplement
Conditions
Included in this rate: 
The exclusivity of the islet and its staff
All meals (breakfast, lunch, dinner) and snacks prepared by the Chef
A selection of drinks (soft drinks, beers, champagnes, wines, spirits)
In-room minibar restocked once a day
Wifi in the room and in the common areas
Beach equipment: kayak, stand–up paddle, reef shoes, kite surf, flippers, masks and snorkels
One bicycle per person
One excursion or activity per person per day according to the list provided
Not included in this rate: 
Round-trip airport transfers
Telecommunications costs
"Premium" alcoholic drinks
Certain excursions identified on the list of activities
2023 & 2024 Payment Policy: 
A 50% deposit is required upon booking.
2023 & 2024 Cancellation Policy: 
No cancellation fees if the reservation is canceled 61 days or more before the arrival date
50% of fees apply if the reservation is canceled within 60 days of the arrival date
100% of charges apply if the reservation is canceled within 30 days of the arrival date
We love
The peaceful atmosphere of the secluded islet
The 3 stunning villas
The pristine private beach
We are using cookies to provide statistics that help us give you the best experience of our site. By continuing to use the site , you are agreeing to our use of cookies.
Ok