Tahiti Airport Motel
Facing the airport, the Tahiti Airport Motel is the perfect place to stay when you are in transit.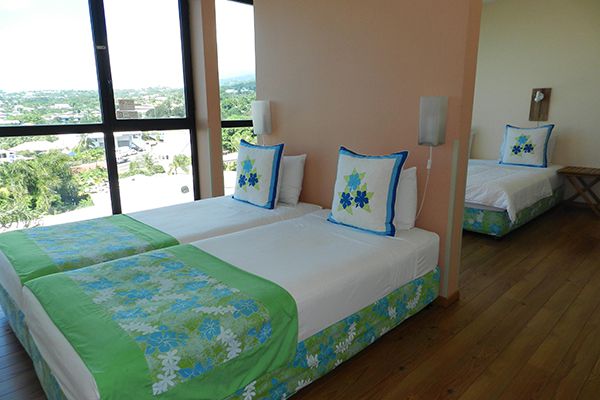 Where is the Tahiti Airport Motel located?
Ideally located just in front of the Faa'a international airport, the hotel turns out to be a great alternative for both transit passengers and travelers willing to spend a few days in Tahiti. Close to convenience stores, it is just a few steps away from a car rental establishment and at a 5min drive from the capital city of Papeete.
Why should you choose the Tahiti Airport Motel?
The Tahiti Airport Motel welcomes you in one of its 46 comfortable units. Each room is equipped with air conditioning, a TV screen, a fridge and Wifi. If you are in transit, do not worry, you will be able to rest and relax before taking your next flight.
If you wish, you can order your breakfast on the panoramic terrace so as to enjoy the view over the lagoon and the island of Moorea.
Equipments
Air conditioning
Fridge
TV
Safe
Private bathroom
Free wireless internet connection
Tea/coffee
Large wardrobe/closet
Layouts
Elevator
Luggage storage
Disabled access
We love
The panoramic terrace
The simple comfort of the rooms
The proximity with the airport
We are using cookies to provide statistics that help us give you the best experience of our site. By continuing to use the site , you are agreeing to our use of cookies.
Ok