Manotel
Small charming guesthouse, the Manotel is a jewel of the Australs where you will live to the local rhythm and share experiences out of time.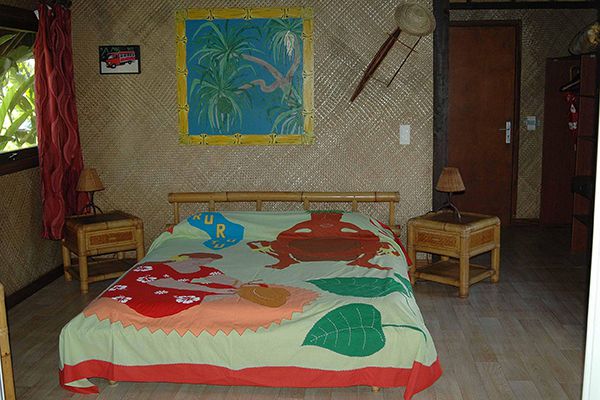 Where is the guesthouse Manotel located ?
Located 3 km away from the main village of Moerai, the Manotel guesthouse is nestled in beachfront on a long white-sand beach.
Why should you choose the guesthouse Manotel ?
The Manotel guesthouse welcomes travelers from all over the world.  Hidden by greenery, it seems to be completely lost in its multicoloured tropical garden. Its owners, Yves and Helene, are really passionate about it. They are always delighted to share with travelers local myths and legends and to speak about their own experience.
This stay will enable you to discover the treasures of this island located off the beaten tracks like the infinity white sand beaches, the Rurutu famous caves and the whales.
Categories & Prices
Pricing Conditions
Rates per night with half board included
Restoration
The restaurant of the Manotel opens for breakfast, lunch and dinner.
Continental breakfast will be an opportunity to taste fresh tropical fruits and homemade jams.
For lunch (by reservation), enjoy simple dishes and refreshing salads, local fruits without forgetting the famous "Poisson Cru". You can aslo have lunch at the village. You will discover the local life of Rurutu and meet its incredibly kind population.
Don't miss the dinner. Trays of seafood, fish, local vegetables and tropical fruits ... Discover various Polynesian specialties.

The Manotel guesthouse has a bar where you can sip cocktails, appetizers and fresh juices.
Equipments
Large double bed
Fan
Bathroom with solar hot water
Small terrace with outdoor seating
Linens
Free Wifi access
Layouts
Botanical garden
Seaside shaded area with tables for reading or lounging
Library
We love
The human experience
The tropical garden with its thousands flowers
We are using cookies to provide statistics that help us give you the best experience of our site. By continuing to use the site , you are agreeing to our use of cookies.
Ok