Pension Taravanui
Nice, charming and cosy, the Taravanui guest house perfectly fits the spirit of Maupiti: simple, peaceful and authentic.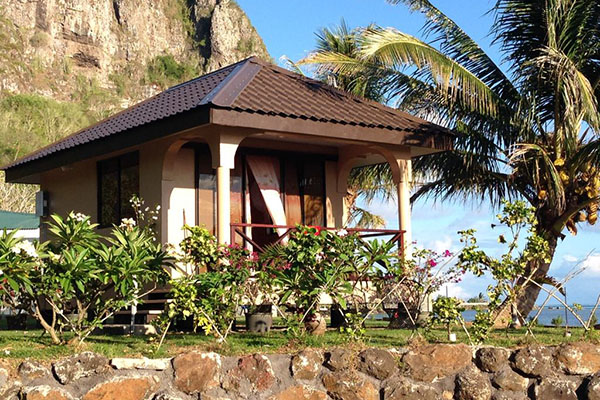 Where is the Taravanui guest house located?
Located on the main island of Maupiti, Taravanui was built by the lagoon, close to the Vaiatu marae, overlooking the sunset.
Why should you choose Taravanui?
Brand new, genuine and comfortable, this guest house is the ideal place if you are looking for a quiet and intimate vacation. Luau and Rudi will be delighted to welcome you in their establishment. Composed of a private room located in their own house and of an independent bungalow, Taravanui is not to be missed. Nice cook, Luau will prepare homemade dishes with fresh and local products mainly. Even though there is no beach, some kayaks are at your disposal if you are willing to explore the lagoon and jump into the water. Eventually, you can rent a bike and get to discover the island on your own.

* Please note that there is no bank, cashpoint and very few local shops on the beautiful Maupiti island.
Categories & Prices
from 249 €
Room with private bathroom
from 269 €
Family Bungalow
Pricing Conditions
Rates per night on a double occupancy with half board included
Restoration
Luau is an experienced cook who loves to prepare yummy family meals out of fresh, local and natural products.
Equipments
Hot water
Fan
Mosquito net
Terrace
We love
The bungalow overlooking the sunset
The location by the lagoon
The nicely decorated bathroom
We are using cookies to provide statistics that help us give you the best experience of our site. By continuing to use the site , you are agreeing to our use of cookies.
Ok